NEWS
Visit to Medjugorje
27 September - 2 October 2013
Pilgrimage
Click here for photos
Visit to Loyola, Spain
8-12 July 2013
Retreat for Priests
Click here for photos
Visit to Poland
10-14 June 2013
Intercession for Priests
Click here for photo of Poland Intercession for Priests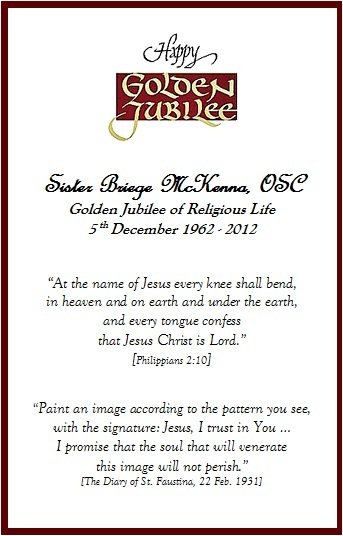 EUCHARISTIC CONGRESS
June 2012
DUBLIN, IRELAND
Sr. Briege delivers a presentation during the
'Caring for Priests' Seminar
Click here to watch presentation
by Fr. Kevin and Sr. Briege
_______________________________________________
Fr. Kevin as guest of Eternal Word Television Network
BOOKMARK with Mr. Doug Keck
"I WILL COME MYSELF"
March 11, 2012
Click Here to View
[ www.ewtn.com]
_______________________________________________
Sr. Briege as guest of Eternal Word Television Network
EWTN Live with Fr. Mitch Pacwa, SJ
January 4, 2012
Click Here to View
[ www.ewtn.com]
_______________________________________________
Listen to Sr. Briege on Ave Maria Radio:
Al Kresta in the Afternoon
interview on 16th March 2011
Click Here to Listen &
enter "Briege" in the search archive box
________________________________________________
Sr. Briege as guest of Eternal Word Television Network:
Bookmark with Mr. Doug Keck
March 13, 2011
"The Power of the Sacraments"
Click Here to View
[ www.ewtn.com]
________________________________________________
Sr. Briege as guest of Eternal Word Television Network
EWTN Live with Fr. Mitch Pacwa, SJ
January 5, 2011
Click Here to View
[ www.ewtn.com]
________________________________________________
NEW BOOK
THE POWER OF THE SACRAMENTS
Revised Second Edition

In her own inspiring style, Sr Briege McKenna explores the marvellous ways God acts through the sacraments, and explains how nothing can substitute for the power of the sacraments. In every sacrament, Jesus acts through the Church to bring his grace and love more fully into our lives. Sr Briege's charismatic presentation can help renew faith in the power of the sacraments, which bring us into contact with Jesus, who heals, sanctifies, nourishes and builds up his people.
Available in USA
Softcover Book 64 pp
$9.99 USD
Ordering Information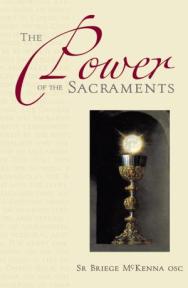 Available in Ireland & UK
Softcover Book 63pp
6.95 Euro
Ordering Information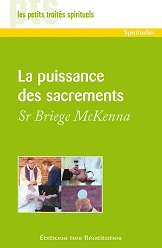 FRENCH TRANSLATION
La Puissance des Sacrements
Available from Editions des Beatitudes
Softcover Book 64pp
4.20 Euro
Ordering Information
CLOSING FOR THE YEAR FOR PRIESTS
Fr. Kevin and I were in Rome for the closing of the Year For Priests. We ministered at a one day retreat for Bishops and priests on "The Gifts of the Priesthood" at St. John Lateran Basilica preceding the International Meeting for Priests June 9-11, 2010. An estimated 15,000 priests came to Rome for the closing events of the Year for Priests.
Along with praying for all priests, I remembered you and your special intentions in my prayers while in Rome.
Sr. Briege McKenna, OSC


Click here to view:
ROME REPORTS TV NEWS AGENCY
interview with Sr. Briege McKenna, OSC
_________________________________________________
I WILL COME MYSELF:
Experiencing the Risen Christ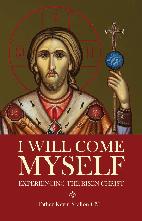 It gives me great joy and pleasure to introduce to you the author of I Will Come Myself, Fr. Kevin Scallon, C.M..
It was thirty-two years ago that I had the blessing of meeting Fr. Kevin at All Hallows College in Dublin. It was a meeting that certainly changed my life and deepened my love and appreciation for God's gifts of the priesthood and His sacraments. Within this book you will find many inspirational stories of the power of the sacraments.
This book beautifully celebrates the presence of the Risen Christ. Fr. Kevin tells of many personal and amazing experiences both within his own life and in the lives of those to whom he has ministered. As you read I Will Come Myself, I know you will enjoy Fr. Kevin's delightful Irish fun loving humor. It is known that laughter is the great tonic for the soul and there is no shortage of tonic when you encounter Fr. Kevin in the pages if this book.
USA/Canada Ordering Information

NOW AVAILABLE IN IRELAND/UK
Ireland/UK Ordering Information
TO VIEW PICTURES OF
BOOK LAUNCH IN
VERITAS BOOK SHOP, DERRY
16 MARCH 2009
Click Here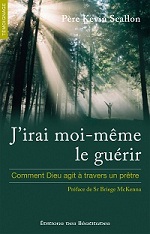 FRENCH TRANSLATION
J'irai moi-meme le guerir
Available from Editions des Beatitudes
Softcover Book 218pp.
18.10 Euro
Ordering Information
________________________________________________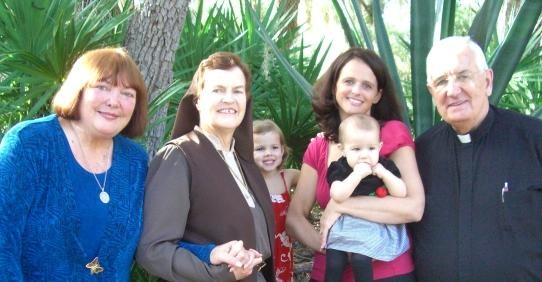 Lorraine, Sr. Briege, Faustina, Jackie, Baby Anne Marie, & Fr. Kevin
________________________________________________
Sr. Briege and Fr. Kevin, as well as all of us here at
St. Clare Sisters Retreat Ministry extend
to you our special greetings and prayers.
INTERVIEW WITH SR. BRIEGE
Our Sunday Visitor - October 10, 2010 Issue
Click here to view
ANNUAL AWARDS FOR
OUTSTANDING CATHOLIC LEADERSHIP
Friday, November 13th, 2009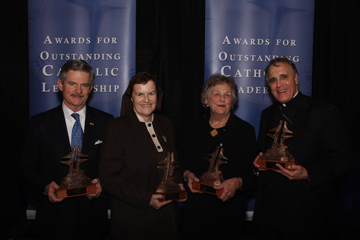 The 2009 Recipients of the Awards for Outstanding Catholic Leadership. From left to right: Secretary James Nicholson,
Sister Briege McKenna OSC, Barbara Henkels and
Cardinal Daniel DiNardo.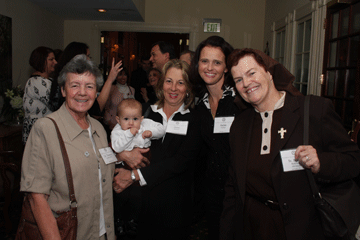 2009 Honoree, Sister Briege McKenna OSC (far right)
with members of her ministry.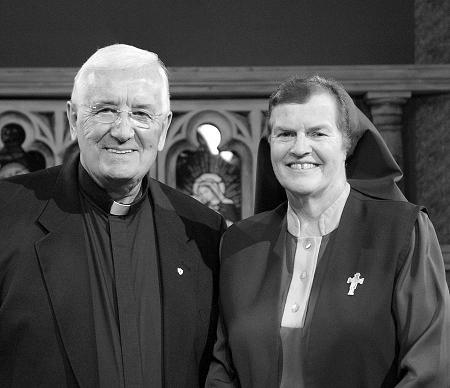 CD ROSARY OF
INTERCESSION FOR PRIESTS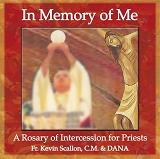 IN MEMORY OF ME
A Rosary of Intercession for Priests
Fr. Kevin Scallon, C.M. & DANA
For nearly 30 years, hundreds of priests have met in Dublin, Ireland at the Intercession For Priests to pray for the protection and holiness of the priesthood. We believe that many men have been saved to the priesthood, and have received many graces because of the Intercession For Priests. In this rosary, we contemplate Jesus our Eternal High Priest, and with Mary the Mother of the Church we pray for all priests. May this Rosary of Intercession for Priests help many who love this precious ministry to be part of the intercession by praying for the bishops, priests, and deacons of the Church.
In this Rosary, we meditate on five special mysteries of the Rosary, written especially for this intercession:
First Mystery: Jesus the Eternal High Priest
Second Mystery: The Paschal Mystery and the Priesthood of Jesus
Third Mystery: The Priesthood of Jesus in the Church
Fourth Mystery: Jesus - Priest and Shepherd
Fifth Mystery: Jesus Christ - Priest and Sacrament
Single CD
$16.99 USD.

Ordering Information
________________________________________________________________
MIRACLES DO HAPPEN
God Can Do the Impossible
Do you believe in miracles?
Sister Briege McKenna does. For over 25 years, since she was healed of crippling arthritis, Sister Briege has ministered hope and healing to countless people all over the world, from huge rallies in Latin America to retreats in Korea. Miracles Do Happen tells the story of Sister Briege's encounter with the healing power of God. It also shares her insights about faith, the power of the Eucharist and the importance of prayer. Most of all, it points the way to a closer relationship with Jesus, greater knowledge of his love, and deeper faith in his power to do the impossible .

Softcover Book 142pp
$13.99 USD.

Ordering Information
ALSO AVAILABLE IN SPANISH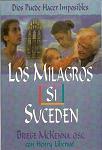 LOS MILAGROS SI EXISTEN
Ordering Information in USA:
Softcover Book 197pp
$9.95 USD
email: info@sisterbriege.com
Ordering Information in SPAIN:
Libro Libres, Madrid, SPAIN
www.libroslibres.com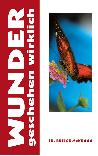 ALSO AVAILABLE IN GERMAN

WUNDER GESCHEHEN WIRKLICH
Softcover Book 224pp
10,00 Euro
Ordering Information:
www.miriam-verlag.de



MIRACLES DO HAPPEN
An Audio Autobiography
Sr. Briege McKenna, O.S.C.
Read along and pray with Sr. Briege....
5 CD Set
$29.99 USD.

Ordering Information


THE EUCHARIST
Sr. Briege McKenna, O.S.C.
5 CD Set
CD1: Eucharist, Come and See
CD2: Understanding the Eucharist
CD3: Healing Through the Eucharist
CD4: Eucharistic Healing Service
CD5: Celebrating the Eucharist (Archbishop D. Martin & Fr. D. Ryan)
5 CD Box Set
40 Euro.

Ordering Information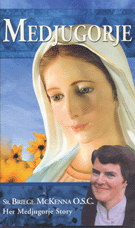 SR. BRIEGE: PROPHECIES FOR MEDJUGORJE

Sr. Briege shares the details of her early involvement with the events in Medjugorje.

$8.99 USD
single CD

Ordering information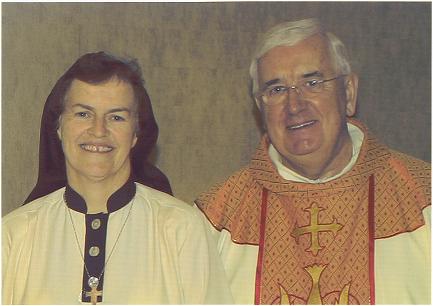 ________________________________________________________________
3 September 2002
DERRY CITY, N. IRELAND
Radio interview with
Sister Briege
listen here
May 2002
WORD
Sr. Briege McKenna:
Up close & personal
read more
24 February 2002
THE UNIVERSE
The miracle life of healing
Sister Briege
read more
18 February 2002
BBC NEWS:
Healing Nun wows Dublin
read more